Description
Discover the beauty and art of Bonsai
We are offering you a discount on six different types of seeds, to get you started on your Bonsai journey. Get your hands dirty and begin growing your dream Bonsai trees to add some beautiful green space to your home. This chinese bonsai seeds collection is perfect for Bonsai beginners and enthusiasts.
Bonsai trees add a calm presence to a home or could feature as a centrepiece for an urban garden. The trees are the perfect size for an ever-growing urban city. It's so important to have green spaces inside your home and a Bonsai is the perfect way to do this.
– The Chinese Elm makes an excellent Bonsai and is sometimes referred to as being almost impossible to kill, making this species a good choice for beginners. They are attractive to butterflies and can create a pleasing environment within your home.
– The Chinese Pea Tree is an excellent choice for beginners, as they are relatively easy to keep and style to any shape. The drooping leaves turn a beautiful yellow in autumn adding to the alluring nature of the tree. Very tolerant of poor growing environments, and can withstand varying temperatures and inadequate soil conditions.
– The Chinese Redbud is the perfect option if you would like some breath-taking colours in your home, that is even more stunning in winter with its strong structure on display. A close relative to the popular 'Judas Tree'. The spectacular display of striking purple-pink flowers in spring, is followed by bronze coloured heart-shaped leaves.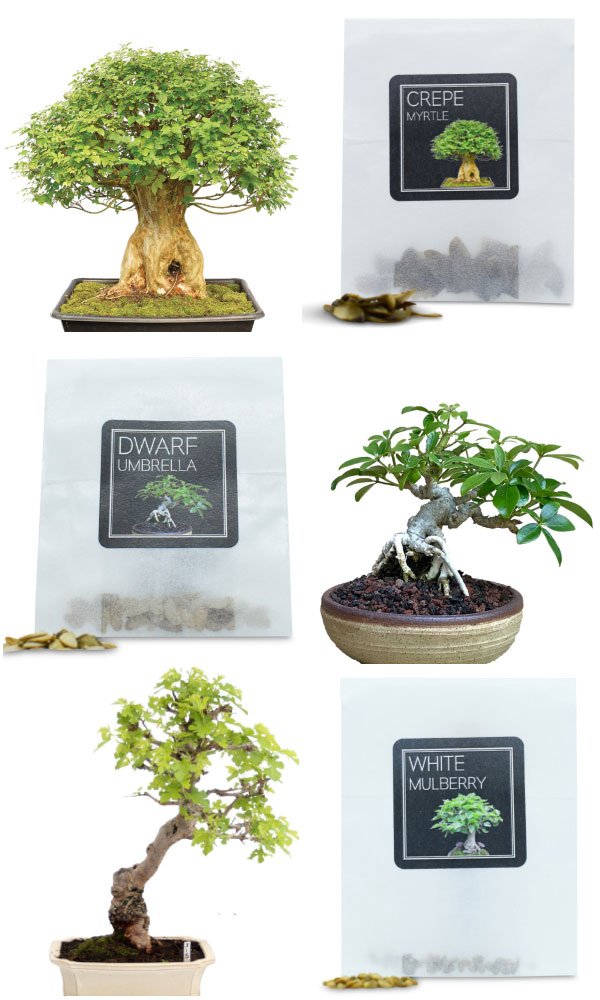 – The Crepe Myrtle is a rapidly growing tree that can withstand frost, great for the UK climate. They display beautiful colours throughout the different seasons and will adapt magnificently to your home or urban garden. The leaves are bronze in colour when unrolling, turning dark green in older age. In autumn, they turn yellow-orange before falling. The summer season can bring lots of pink, red and mauve flowers.
– The Dwarf Umbrella has the ability to grow aerial roots adding more character to the Bonsai. This tree does not produce hardwood or rough bark, creating an elegant and delicate look.
– A fast growing tree, the White Mulberry is an excellent choice for a unique, unusual looking Bonsai. The heavy trunk forms picturesque shapes but in a gnarled form to produce a one-of-a-kind look. They are robust but easy to grow, with an interesting history dating back to the Roman Empire, adding character and colour to your home.
Check out our other seed bundles!