Description
JUNIPERUS CHINENSIS - Chinese Juniper
Relatively easy difficulty – 2/5

Daily throughout the growing season, keep moist in winter
Green foliage with small round cones
Suitable for all bonsai styles, except broom
Chinese Junipers are very popular bonsai trees and are native to China with close links to species in Japan, Korea and wider over East Asia. The trees are coniferous and can reach heights of 50 to 60 feet. The bark is reddish to brown and flakes thinly, and can live for hundreds of years. These trees produce berries that are valued as spices, and for flavouring gin. They are also used in Scandinavian dishes.
These tough trees adopt gnarled and twisted tree trunks and branches with large areas of exposed driftwood, which can be echoed beautifully in bonsais. The adult needles have the shape of a diamond, are arranged in four rows, intersecting flat on the young branches, like scales of fish. The foliage is green to blue-green and has a very sweet fragrance when crushed and lovely blue berries appear in autumn.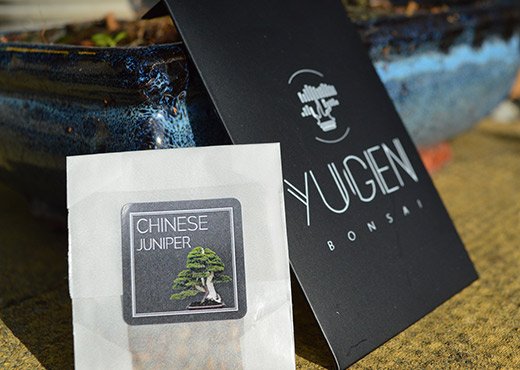 They have the ability to be shaped in almost every known Bonsai style, giving you the freedom to create your desired bonsai shape.
Packet includes 30 seeds and an electronic Chinese Juniper Bonsai Growing Guide